Webinars
2021 INCLUDE Webinars
INCLUDE is pleased to announce our calendar of events for the first few months of the 2021 calendar year.
Each month, a free 1-hour Professional Development Webinar will take place. This years' focus for our webinar series is Examples of Access, Inclusion, and UDL in Higher Education around the World.
COMING NEXT IN OUR 2021 WEBINAR SERIES
---
May 21, 2021: Linda Plantin Ewe, Pia Haggblom, and Therese Nilsson, Kristianstad University, Sweden.
Focus: The impact of Universal Design for Learning in higher education, and the road we are on in Sweden
Register for this webinar at http://bit.ly/INCLUDEreg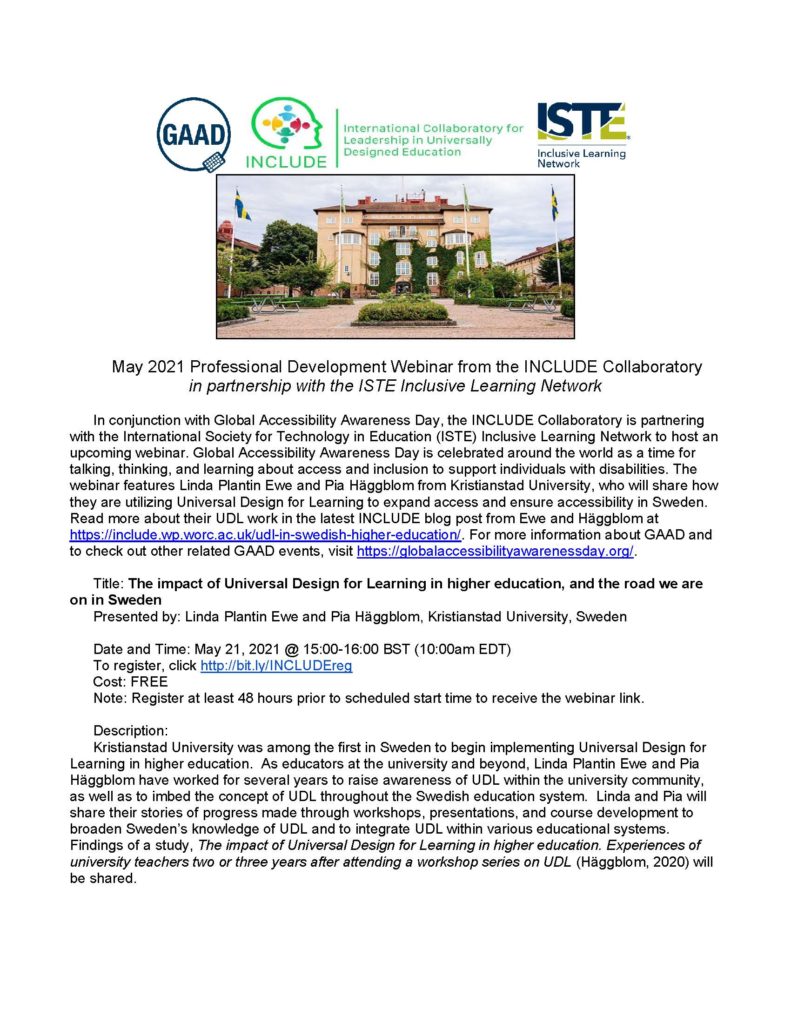 ---
PREVIOUS WEBINARS
April 2021: Virna Rossi, Ravensbourne University London, United Kingdom.
Focus: Rear-view mirror: reflecting about practice through the lens of Universal Design for Learning principles and practices to inform learning design
This webinar has taken place. View the recording here.
---
March 2021 – Dr. Susie Gronseth, U. of Houston, USA & Dr. Elizabeth Dalton, DESI, USA.
Focus: Access to Build to Internalize: A Model for International UDL Implementation through Online Professional Development for India and UAE
This webinar has taken place. View the recording here.
Webinars for upcoming months include:
---
June 2021: Leandro Yanaze & Cicero Lima Malheiro – University of Sao Paolo, Brazil.
Focus: Brazil's UNIFESP Accessibility Portal: Inclusive and Open Design to Support Inclusion in Higher Education
---
WATCH HERE FOR MORE WEBINARS TO COME IN 2021!
---
Click on the images below to link to other relevant webinars ….

Assistive Technology webinars
A monthly listing of webinars in Assistive Technology applications.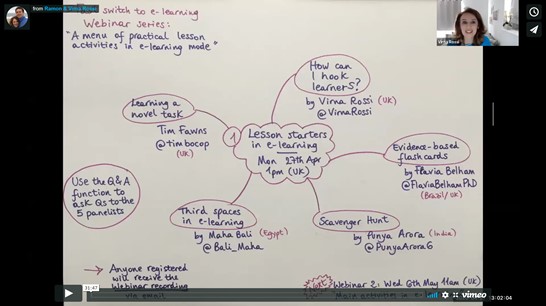 E-learning Webinars by Virna Rossi
Virna Rossi has crated a series of webinars related to e-learning. You would welcome some practical ideas for activities in e-learning mode as you have had to switch to e-learning fast, because of the pandemic. In your current e-learning mode, you likely have some synchronous and some asynchronous lessons.

YouTube webinar recordings from the International Dyslexia Association (IDA):
Things to Know About Assistive Technology during Distance Learning. Presenter – Jamie Martin
Innovative Ways to Teach Online. Presenter – Margie Gillis