2023 INCLUDE Webinars
---
UPCOMING WEBINARS
INCLUDE will announce upcoming events on our social media and email communications as information becomes available. Free 1-hour Professional Development Webinars are organized and offered by INCLUDE on a regular basis.
---
PREVIOUS WEBINARS

INCLUDE Reflections — The first seminar took place Thursday, February 16th. Watch it here: https://youtu.be/P8bzqTVtEW0
With support from colleagues across the globe, the International Collaboratory for Leadership in
Universally Designed Education (INCLUDE) has navigated its way through three memorable years of
growth and development. Co-Founders Richard and Sean provided a reflection on INCLUDE's achievements and gathered some key shared ideas for future development.
INCLUDE Projections — The second seminar took place Thursday, February 23rd. Watch it here: https://youtu.be/P8bzqTVtEW0
This seminar was facilitated by David Stinson, the Director of Accessible Learning at Trinity Western University in Canada. The session provided space to articulate priorities for INCLUDE's strategic vision 2023-2026.
---
June 9, 2022 at 10am EST/ 3pm GMT: Seanna Takacs, Katherine Carpenter and Brad Anderson, KatKwantlen Polytechnic University, British Columbia, Canada
Learn how this team of educators at KPU, working closely with students, have been successfully integrating the voices of the students and the components of choice and UDL to re-envision and and rebuild their entrepreneurial leadership program.
Read the associated blog post.
View the presentation:
---
January 20, 2022 at 10am EST/ 3pm GMT: Tracy Galvin, Queens University, Belfast, Northern Ireland; Dr. Eric Moore and Dr. Hillary Goldthwait-Fowles, Kennedy Krieger Institute, Baltimore, USA
UDL is recognized as a robust and empowering framework for implementing inclusive educational practices. In recent years, some have questioned UDL's appropriateness for advancing a culturally sustaining pedagogy in the pursuit of social justice. Please join us as we hear from three established UDL scholars and advocates as they share their insights drawn from an examination of Antiracism and Universal Design for Learning by Andratesha Fritzgerald. What will UDL look like as it embraces diversity beyond disability?
The webinar is centered on how the three authors as part of a community of practice around the book Antiracism and Universal Design for Learning by Andratesha Fritzgerald gained further insights into the interconnectivity of both concepts within education. The discussion will be about lessons gained from the journey individually, collectively and across systems about what was learned and unlearned to effect change in our own mindsets, as well as through the knowledge and experiences of others in an attempt to become an accomplice, to strive for equity and to dismantle systemic inequalities.
Read more in the INCLUDE blog post.
Review the presentation here:
---
October 2021: Dr. Frances Smith, Adjunct Professor, George Washington University and UDL Leadership Fellow, Boston College/CAST
Focus: Delivering A Graduate Course in Universal Design for Learning: Reflecting on Eighteen Years of Experiences
In this free INCLUDE webinar, Dr. Smith shares her course model for integrating UDL into higher education instruction, which she has taught at GWU for many years. A passionate advocate for the importance of universal design for learning and career assessment, Dr. Smith is an innovative educator and implementor for the practices of universal design(s) for learning, career assessment, and technology in education. For over 30+ years, Fran has worked in the fields of instructional and assistive technology – providing direct service to students with disabilities and staff development training to educators. Read more in the INCLUDE blog post.
Review the presentation here:
Smith_INCLUDE-UDL-Presentation_Final-Oct-28-2021-min

---
September 2021: Dr. Judith McKenzie, Associate Professor, Division of Disability Studies, University of Cape Town, South Africa
Focus: Promoting UDL principles and strategies for inclusive learning: The Redesigning Blended Courses Project at the University of Cape Town
In this free INCLUDE webinar, Dr. Judith McKenzie and her colleagues from the University of Cape Town in South Africa share how their university has adopted UDL principles and strategies in designing the blended learning courses at the UCT. Strategically aligned to the university's Vision 2030 of creating digitally-enabled education, an intended outcome of the Redesigning Blended Courses Project is to develop models for blended learning that can improve students' learning and success. They describe the context (including the legacy of racial oppression, urgent agenda for decolonising the curriculum, and impacts of the emergency pivot to remote learning), and elaborated on their project goals, sharing their initial progress. They elaborate that incorporating the three principles of Universal Design for Learning (UDL) into the design of blended courses provides a framework to move away from a deficit model of seeing certain groups of students as requiring accommodations, and moves toward a more equitable model where inclusion in course design is an upfront principle. Read more about this in the INCLUDE blog post.
---
June 2021: Leandro Key Yanaze & Cicera A. Lima Malheiro – Federal University of São Paulo – Unifesp, Brazil
Focus: Brazil's UNIFESP Accessibility Portal: Inclusive and Open Design to Support Inclusion in Higher Education
This webinar has taken place. View the recording here.
In this free INCLUDE webinar, Professors Leandro Key Higuchi Yanaze, Maria da Conceição dos Santos and Cícera Aparecida Lima Malheiro from the University Federal of São Paulo (Unifesp) in Brazil share how their university has enhanced clarity and cohesion while promoting inclusive education in a context of working across a multi-campus university. Using UDL as a conceptual framework, colleagues have developed an Accessibility Portal encouraging academics and students to act as a virtual learning community. The Portal promotes "recognition, respect for difference and appreciation of human diversity and provides awareness, information and training for teachers, students and the entire community." You are encouraged to read the INCLUDE website blog where Leandro, Maria and Cícera provide a rich contextualisation of their work. You can also peruse the associated slides by downloading the document in PPT format.
---
May 2021: Linda Plantin Ewe, Pia Haggblom, and Therese Nilsson, Kristianstad University, Sweden.
Focus: The impact of Universal Design for Learning in higher education, and the road we are on in Sweden
This webinar has taken place. View the PDF version of the presentation by clicking on the link below.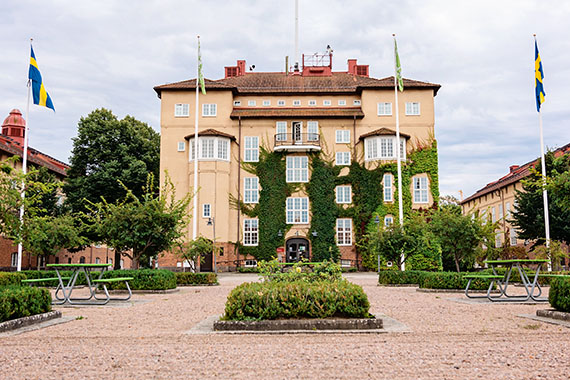 In conjunction with Global Accessibility Awareness Day, the INCLUDE Collaboratory partnered with the International Society for Technology in Education (ISTE) Inclusive Learning Network to host this webinar. Global Accessibility Awareness Day is celebrated around the world as a time for talking, thinking, and learning about access and inclusion to support individuals with disabilities. The webinar featured Linda Plantin Ewe and Pia Häggblom from Kristianstad University who share how they utilize Universal Design for Learning to expand access and ensure accessibility in Sweden. You can read more about this work in the associated INCLUDE blog post.
---
April 2021: Virna Rossi, Ravensbourne University London, United Kingdom.
Focus: Rear-view mirror: reflecting about practice through the lens of Universal Design for Learning principles and practices to inform learning design
Virna Rossi of Ravensbourne University London provides a metaphorical look at Universal Design for Learning principles in this webinar from March 2021. We can reflect on and evaluate our learning design while the learning experience is happening, we can indeed make it part of the learning experience itself. The 3 UDL rear/side-mirrors can be used as a quick evaluative checkpoint, like a brief 'glance' while driving. View the recording here or read more about this in the INCLUDE blog post.
---
March 2021: Dr. Susie Gronseth, U. of Houston, USA & Dr. Elizabeth Dalton, DESI, USA.
Focus: Access to Build to Internalize: A Model for International UDL Implementation through Online Professional Development for India and UAE
The Master Course "UDL Implementation from Access to Build to Internalize", held in January 2021 for teachers, higher education students, and faculty in India and the UAE, focused on preparing educators to teach both about UDL and to teach using the UDL framework. The ten-hour class was offered in four, 2½ hour sessions held via Zoom, which began with foundations of the inclusive instructional design framework but primarily focused on how it applied to curricular and lesson planning. Course organization focused on core UDL principles, UDL guidelines, and the progressive development of UDL implementation from Access to Build to Internalize. This webinar discussed course development, delivery, and outcomes. View the recording here or below. We also encourage reading about it here in the INCLUDE blog post.
---
OTHER USEFUL WEBINARS
---
Click on the images below to link to other relevant webinars ….

Assistive Technology webinars
A monthly listing of webinars in Assistive Technology applications.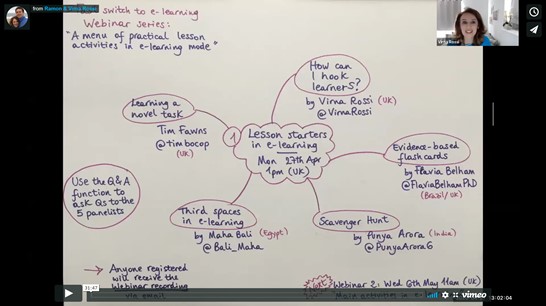 E-learning Webinars by Virna Rossi
Virna Rossi has crated a series of webinars related to e-learning. You would welcome some practical ideas for activities in e-learning mode as you have had to switch to e-learning fast, because of the pandemic. In your current e-learning mode, you likely have some synchronous and some asynchronous lessons.

YouTube webinar recordings from the International Dyslexia Association (IDA):
Things to Know About Assistive Technology during Distance Learning. Presenter – Jamie Martin
Innovative Ways to Teach Online. Presenter – Margie Gillis